Welcome to Discover The Lakes
This website is run by people who live, work, and play in the Lake District
We love the Lake District and having grown up here, we know a lot about it. So if you're looking to choose from a selection of Lake District cottages, you'll find our selection ranges from top end, group accomodation, and off grid wildness. We both had our weddings at different Lake District hotels and we've stayed and dined in a fair few of them. As for Lake District pubs, we've sampled most of them between us, often more than once 🙂 Lake District log cabins are hugely popular, we feature the best of them. If you like a lot of amenities and plenty of new friends to meet, Lake District holiday parks are the place to go to. Finally, when it comes to things to do in the Lake District, we've probably done them. Have a great time in the Lakes we look forward to bumping into you.
When it comes to consistently high review scores Bassenthwaite Lodges really stands out. It is a peaceful location on one of the Lake Districts quietest lakes and offers high quality accommodation. Tremendous views of Bassenthwaite add to the drama of the setting and the park holds the much coveted David Bellamy gold award for conservation. As well as some fantastic walks there are many places worthy …
It is hard to think of anything better than a long soak in an outdoor hot tub after a day exploring the fells of the Lake District and Avon Wood which nestles on the shore of Windermere fits the bill. It is a small park set in woodland and is close to Bowness and Newby Bridge. The Furness peninsula with the market towns of Ulverston and Cartmel are also close by and you won't be disappointed with your stay here …
The unspoiled countryside of the north lakes is the setting for Thanet Well Lodges. The historic market town of Penrith is nearby as is the county town of Carlisle. You can drive to Ullswater easily and you are on the edge of Greystoke forest. Thanet Well has spacious two and three bedroom lodges and is a great get away from it all destination for couples or families looking for a welcome bit of peace and quiet …
If walking or messing around in boats or indeed just peace and quiet are your thing then this highly rated park could be just the thing.Coniston Water which is great for kayaking is just across the road and the village of Torver which has two great pubs is a short drive away. Coniston village has the Ruskin museum and the Gondola among other attractions. This park is …
Situated within the National Park at the entrance to the beautiful valleys of Eskdale and Wasdale, Seven Acres is in an ideal location to explore the relatively unspoilt Western Lake District. Whether you bring your own tent, tourer or motorhome, or hire one of the plush, fully equipped holiday caravans, the Park will offer an enjoyable and memorable stay in the lake district …
Located close to Grange-over-Sands, in the heart of the majestic Lake District, this friendly park combines spectacular scenery with excellent facilities – everything you need for an unforgettable family holiday. Winner of the David Bellamy Gold Award for Conservation, Lakeland's beautiful grounds are home to a wealth of fabulous facilities. A great choice of park for a …
Discover The Lakes knows the Swan Hotel well, we have stayed there, eaten there and used it for meetings. Originally an old coaching inn it has an enviable riverside location perfect for alfresco dining or drinks on a sunny day. The rooms are of a good standard and the food although not cheap has always been of an excellent standard.Newby Bridge could be called the gateway to the lakes as you are a stones throw from Windermere itself and a short drive from either Bowness …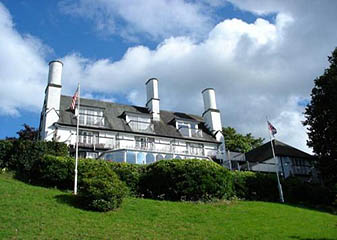 If your main criteria is a luxury hotel with a lakeside setting and a conservatory with views over the lake to the mountains then we have found it for you. The hotel was once owned by one of the pioneer celebrity chefs John Tovey and it still holds the reputation for fine dining that he established. The rooms are elegant and afternoon tea in the conservatory is a delight. In our opinion one of the best luxury hotels in the lake district and well worth a look …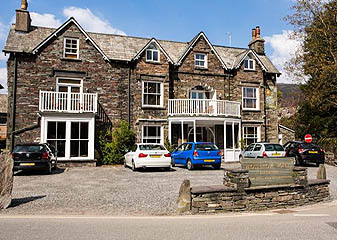 Moss Grove has an enviable situation in the heart of Grasmere village and has eco friendly credentials.It is a classic Victorian building so the rooms have that spacious feel,breakfast ingredients are sourced locally and evening meals although not available in Moss grove can be taken at restaurants within walking distance. For a romantic break there are special treats such as champagne and indulgent chocolates on offer.A great place to stay in Grasmere for a break …
The Terrace, Windermere is a unique row of grade II listed large holiday homes located in the heart of Windermere village, yet conveniently secluded from the hustle of the town in private grounds. Whether it's a short break or a full week, you're celebrating something or simply getting together with friends and family you'll have a great time at The Terrace Windermere…
This charming 16th-century, beamed holiday cottage occupies a quiet position, yet stands only 400 yards from the heart of Ambleside – one of the more popular Lakeland locations. One of three, Oaks Farm Cottage has been carefully refurbished, retaining original character and featuring an 18th-century fireplace with log-burning stove which provides ….
A luxurious, first floor apartment within walking distance of Keswick town centre with fell views and private parking.Situated on the fringe of town, these luxurious apartments offer the best of both worlds: they have all the amenities of the town centre close at hand and have an almost country location with views of the nearby Lakeland Fells…
…